Back in college, my good friend Sarah and I used to send each other "mail art," which is exactly what it sounds like: letters decorated with drawings, covered in collages, filled with photographs, anything and everything we could imagine to put a stamp on.
Although our correspondence was mostly sporadic, holding each of her letters in my hands brought me such a tangible feeling of joy and comfort, especially at a time when mass update emails were most people's preferred method of communication.  Unfortunately, busy schedules and changing lives as they are, Sarah and I fell out of our pen pal-ship long ago.
So, imagine my excitement when I learned, years later, that Sarah had taken up at a quarterly devoted to sending issues of original art pieces in the mail.
The Thing Quarterly
The Thing Quarterly is basically like any other quarterly periodical,

except that it is produced in the form of an object. Each issue is conceived of by a different contributor and then published and sent to subscribers in the mail.
Some of my favorites include a cutting board designed by This American Life producer Starlee Kind that is only for cutting onions and a heartbreaking window shade designed by filmmaker Miranda July.
I've been hearing about The Thing from Sarah for a while, but I finally got to go see and touch some of the issues at the New York Art Book Fair this past weekend.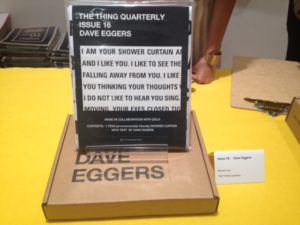 As a person who often assigns voices and personalities to inanimate objects, I was smitten with issue #16: a shower curtain designed by Dave Eggers printed with a monologue written from the point of view of said shower curtain.
What I love most about the Thing is that they've taken the idea of a written publication and blended it with a different medium. Actually, since they collaborate with artists who have such varied backgrounds and visions, each issue is produced in an entirely different medium.  Some of them are meant for using, others are meant for looking at, but it seems like all of them will spark conversation in some way or another.
The subscription price is a little steep for me at the moment, but perhaps I'll revisit mailing out some art of my own again and see if anything comes back my way.