Equal parts storyteller and problem solver,
I help you make your show the best it can be while keeping true to your voice, style and aesthetic and putting out any fires that arise along the way.
I have worked on shows for Netflix, A&E, Adult Swim, YouTube Red and PBS, cut content for brands like Google, Target, Lyft and iHeartRadio, worked with non-profits like One Vote at a Time, K9 Youth Alliance and She Sees to help tell the stories of progressive candidates, shelter dogs and young women in South LA, respectively.
I was an assistant editor on the small but mighty editorial team that won the Non-Fiction Editing Emmy for Netflix's Making a Murderer in 2016.
In 2019, I was one of the editors on the team that won the Streamy Award for Best Editing for Season 4 of YouTube Red's original series, Escape the Night with Joey Graceffa.
My longterm goal is to continue to edit smart, funny TV shows with complex female characters. Some recent favorites include Better Things, I Hate Suzie, This Way Up, Feel Good and Hacks.
Growing up, I was always the self-designated archivist.
I'd spend hours on my bedroom floor with all of my 4×6 prints spread out around me, arranging and rearranging them on the blank scrapbook page, resisting the urge to glue them down until the layout was just right.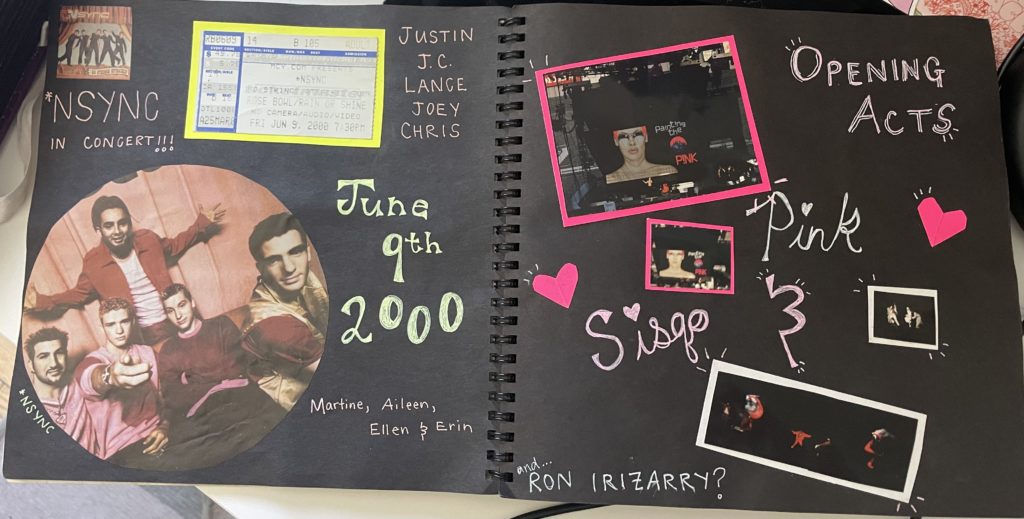 A few pages from various concert scrapbooks I kept in the early aughts.
I had a gut feeling that the orientation and order of the photos across the two page spread was somehow more important in communicating the events of any given night than the individual photos themselves.
In my college Film History 101 course, I discovered there is actually a name for this.
Montage Theory:
"[It is] the editing of shots rather than the content of the shot alone [that] constitutes the force of a film.*"
Sitting in the creaky risers in the back of 155 Dwinelle, this lesson hit me viscerally, unlocking a truth inside my brain that I had always innately known.
It took me a few more years of trying out other forms of storytelling in the wild** to find my way back to editing, but once I did, I never turned back.
When I'm not in the editing bay, you can find me chasing my toddler around the beach, playing fetch with my two large mutts and trying new vegan restaurants around the city.
*wikipedia
**Directing web series as a side hustle while working early mornings as a barista in NYC nearly broke me and did in fact give me my first gray hair, one of many signs that directing was simply not my jam.